Class 117 Diesel Multiple Unit Project
This two-car member of the Class 117 is intended to be the last preserved certified DMU of its kind to operate nationally over the rail network. Historically introduced in the 1960's they were used all over the network, mainly on commuting, cross-country and regional services up until the early 1990's. This example was purchased from Chiltern Trains as 960301 where it had been in use for water jetting duties clearing away leaves and grease deposits in autumn from the rails. This work probably saved vehicles from the scrapheap. Internally, all seats had been removed, large tanks added for the water and a high-power pump added.
The vehicles are now under major conversion work back to passenger use as 117308 currently under corrosion repairs.
The safety requirement has necessitated to close over every alternate doorway (originally there had been a door for every pair of seats to speed passenger exit during commuting), Replacement windows will be installed which were missing, and then flooring and internals will be rebuilt.
Two engines are currently under repair and overhaul.
A compatible Trailer Lavatory Composite has been purchased to complete a 3-car set which will follow on from the power car overhauls.
The aim is to prepare the two-car unit for route-learning and infrastructure visibility purposes. The expectation is that operating companies will lease and maintain it.
When the third coach is available it is feasible to use the unit for charter passenger services.
Latest News
Great News of the 117! - 15 May 2019
It has been towed to Eastleigh for professional refurbishment and is seen here in the yard waiting for work to start. Before the move, all kinds of certification checks were needed but it passed them with flying colours.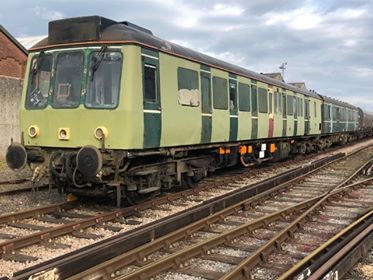 Trailer Car - 2 December 2018
Our 2-car 117 is now being sent for works refurbishment to speed up the process and for it to be put into charter service projected autumn 2019 : for this purpose we have purchased a trailer car to increase capacity, introduce first class and toilet facilities, but the Power Cars will take priority to ensure revenue is earned as quickly as possible.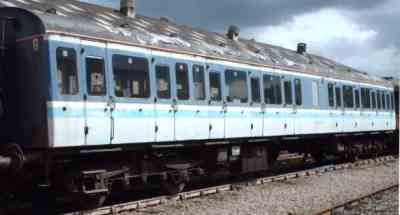 Class 117 Overhaul and Future - 19 September 2018
960301 (117308) is likely to be moved soon to a new location for overhaul and reinstatement back to mainline passenger running condition with a view to be hired for rail tours and contract work: it is the last community rail 1st generation Diesel Mulitple Unit example suitable for mainline operation. The work is envisaged to start in the later part of 2018 and be ready for operation in 2019.