News & Updates
The EGM on Saturday 21st May - 23 May 2016
When the shareholders met, the proposal for the detail (shown elsewhere) of the new Memorandum and Articles was passed unanimously. The necessary documents will now be submitted to the appropriate body.
Extraordinary General Meeting to be held on May 21st 2016 - 11 April 2016
At the AGM in October, Members agreed in principle that the Company should change its status to that of a Community Interest Company: the Directors have proposed appropriate Memoranda and Articles and these will be considered at an EGM on May 21st. To see the Agenda of the Meeting please click here.
Train Simulator for the NSR now Launched! - 5 March 2016
The North Somerset Railway Train Simulator is now AVAILABLE! There are two ways of obtaining your copy: you can go to Facebook and search on Somer-Rail, scroll down until you find the link. Alternatively, you can click http://store.steampowered.com/app/325993 and go directly to it. If you do not already have it, you must also purchase Train Simulator 2016 which provides the fundamental facilities. An option will appear to obtain the Steam download: this is free and provides automatic updates, etc.
The Train Simulator - 22 February 2016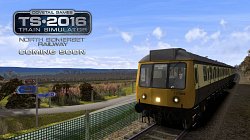 At the exhibition in Frome on 30th January we demonstrated the Train Simulator. Some stills of the software can be found in our Gallery. These also show the different seasons which can be used.
Yesterday's Exhibition at Frome - 31 January 2016
We held an exhibition at the Frome Cheese & Grain and the Railfuture Severnside meeting was alongside. We had many local visitors, more than even we had expected. Again, the the working model of the proposed Mells Road site was operating and attracted much interest. The updated Train Simulator was running throughout the day and generated excitement from all visitors,
We were very please that so many visitors had taken the trouble to come: there were Members from four local authoritities and we will be able to follow-up many aspects of the plan with them.
The public launch of the Train Simulator is planned for25th February: for details search on Facebook. Stills will be appearing here shortly.