News & Updates
The Train Simulator - 22 February 2016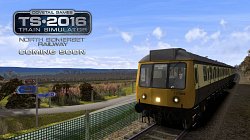 At the exhibition in Frome on 30th January we demonstrated the Train Simulator. Some stills of the software can be found in our Gallery. These also show the different seasons which can be used.
Yesterday's Exhibition at Frome - 31 January 2016
We held an exhibition at the Frome Cheese & Grain and the Railfuture Severnside meeting was alongside. We had many local visitors, more than even we had expected. Again, the the working model of the proposed Mells Road site was operating and attracted much interest. The updated Train Simulator was running throughout the day and generated excitement from all visitors,
We were very please that so many visitors had taken the trouble to come: there were Members from four local authoritities and we will be able to follow-up many aspects of the plan with them.
The public launch of the Train Simulator is planned for25th February: for details search on Facebook. Stills will be appearing here shortly.
Exhibition at Frome - 30 January 2016
We will again be displaying the Train Simulator, further updated, along with the model of the proposed Mells Road station on Saturday, 30th January 2016 at the Frome Cheese & Grain, Meeting Room 3. This will be an excellent opportunity to find out the latest information about the project and see the Simulator in action. There will also be a meeting of the Severnside branch of Railfuture where a local speaker is expected.
Doors Open for the Displays: 11:00
Railfuture Meeting : 14:00 - 16:00
Displays : 16:00 - 17:00
Note the date in your diary now!
Phone Messaging Service - 11 December 2015
We have set up a freefone number for you to leave messages if you do not have access to the internet: we will reply to you as quickly as possibly.
The number is 0800 6127 117
Display with Railfuture - 7 November 2015
We displayed the Mells Road model and the Train Simulator at the Railfure conference Rail Resurgence in the West of England. Again, much interest was shown, this time by transport experts.We would like to thank Railfuture for providing the space and support. We expect to repeat the display at a joint meeting with Railfuture Severnside, the local branch, at a meeting in Frome around the end of January.