News & Updates
Support from Radstock Town Council - 18 July 2016
The Railway presented its possible plans to Radstock Town Council on 18th July, using the Train Simulator which is sufficiently accurate to calculate timings between Radstock and Frome (non-stop would be around 10 minutes, if stopping at Kilmersdon and Mells Road an additional 3 minutes would be needed!). All stakeholders are currently being consulted and the role of Franchising was described. It would be feasible for a train to Frome to continue to Westbury or even Cardiff. Mendip District Council are interested in the concept of transporting the Mells Road CPM concrete raw materials and products in and out by rail instead of road. Costs will be contained by using volunteer professionals: already plans and formal reports have been prepared which would otherwise cost many millions. The Company summed up by stating that now is the last opportunity for a railway: the Council then voted unanimously to support the projects transport and work order transfer.
The EGM on Saturday 21st May - 23 May 2016
When the shareholders met, the proposal for the detail (shown elsewhere) of the new Memorandum and Articles was passed unanimously. The necessary documents will now be submitted to the appropriate body.
Extraordinary General Meeting to be held on May 21st 2016 - 11 April 2016
At the AGM in October, Members agreed in principle that the Company should change its status to that of a Community Interest Company: the Directors have proposed appropriate Memoranda and Articles and these will be considered at an EGM on May 21st. To see the Agenda of the Meeting please click here.
Train Simulator for the NSR now Launched! - 5 March 2016
The North Somerset Railway Train Simulator is now AVAILABLE! There are two ways of obtaining your copy: you can go to Facebook and search on Somer-Rail, scroll down until you find the link. Alternatively, you can click http://store.steampowered.com/app/325993 and go directly to it. If you do not already have it, you must also purchase Train Simulator 2016 which provides the fundamental facilities. An option will appear to obtain the Steam download: this is free and provides automatic updates, etc.
The Train Simulator - 22 February 2016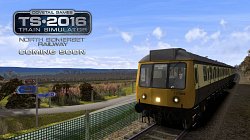 At the exhibition in Frome on 30th January we demonstrated the Train Simulator. Some stills of the software can be found in our Gallery. These also show the different seasons which can be used.